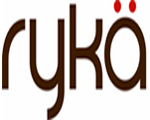 Let's face it, a womens foot is different than mans and Ryka chooses to embrace that differnce as a pretty amazing thing to celebrate. The "Made for Women" mentality has been a Ryka way of life and a guiding principle for over 30 years. This means all Ryka sneakers and footwear are exclusively designed for a woman's unique foot shape and muscle movement.
THE SCIENCE BEHIND RYKA FIT Ryka knows the quadricep angle or "Q-angle", which is the anatomical relationship between the hip and knee measures 5-7 degrees greater for women than men. This means women tend to shift more weight to the outside of the foot, which can lead to instability during foot strike and puts women at greater risk of injury.
Ryka design philosophy integrates all their technologies into one of the most researched and "women-specific" fits in the industry. Every Ryka sneaker is complete footwear solution customized to fit the shape of a woman's foot perfectly. All Ryka shoes have a roomier forefoot, narrower heel, more secured footbed and increased instep volume. Simply put Ryka footwear is engineered to address a womens unique biomechanics resulting in an unsurpassed fit, cushioning, control and comfort.