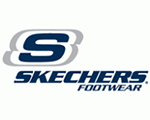 Over the last few years, Skechers Memory Foam has grown from an innovation into an integral feature of the Skechers footwear collections. Skechers memory foam technology has really struck a chord with people of every age. The comfort material that was once exclusively for bedtime is now something that adults and kids can wear everywhere they go, on every shoe imaginable - whether it's Skechers sport, casual or fashion looks. Skechers both comfort and style are in their footwear.
Skechers heard their customer demands loud and clear... and they expanded beyond our original Skechers Memory Foam technology to include additional features that suit each unique style. From air-cooled memory foam that provides enhanced breathability, to gel-infused memory foam that offers a perfect balance of comfort and support. With every new design, Skechers focusing on making comfort stylish so everyone can wear the latest trends and love every new Skechers look they wear, inside and out.
For all of those who want a little more cushion in classic sneakers, flats and sandals, to keep their feet comfy on the playground or who need on-the-job Work footwear that's tough on protection but soft on soles, Skechers Memory Foam now instantly contours and offers all-day comfort for all these and more. Skechers massive memory foam offering has made us the go-to footwear brand for anyone looking for trend-right comfort.